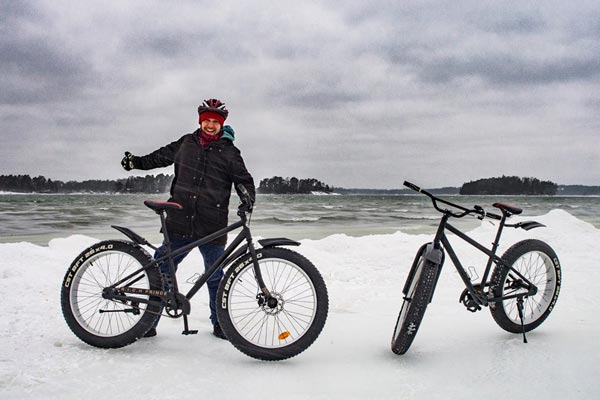 Fat Bike Forest Ride
Have you dreamed of hopping on bike and speeding over ice or frosty snow in the middle of Nordic forest?
How about leaving the known path behind and just jumping for a real off road biking experience?!
Now you can do it with us, every day at 11.30 am starting at Vuosaari Paddling Center in the Eastern Helsinki!
 Highlights
Vuosaari ‒ the Riviera of Helsinki with beach boulevard wide enough for fast enjoyable bike riding
Uutela ‒ recreational area where forest opens to the Baltic Sea
Kallvikinniemi ‒ peninsula with national state forest for snow and dirt track riding 
TIME: Every day 11.30 AM | With a reservation by 9 pm on the night before (at the latest!)
DURATION: 2 - 3 hours
PRICE: 50 euros >>> Price includes the guide, bike, helmet & a snack!
Please note! Our Helsinki by Fat Bike tour is suitable for everyone. This Forest Ride requires medium cycling skills and understanding of how to use the foot brake, because in many places we will go there will be exciting places where you might end up trying your skills on ice, snow or hopping over tree roots and other forest fauna. On forest ride we use single speed off-road fat bikes created for this use!
Fat Bike Forest Ride is offered in collaboration with Natura Viva eco-tourism company and the tours start from their Vuosaari Paddling Center. You will receive exact directions on how to get there by public transport from the center of Helsinki as part of your tour confirmation details after you have made a reservation by email!